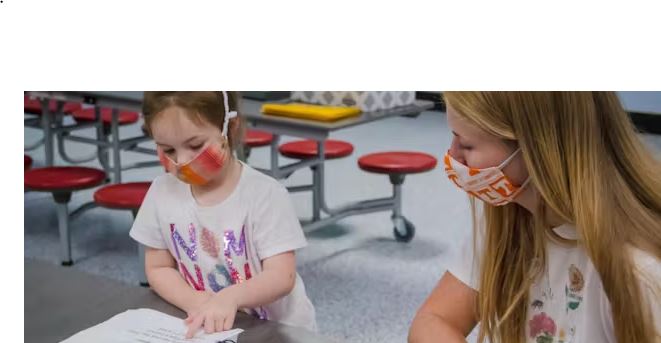 PHOENIX (AP) – Arizona is channeling $40 million in federal COVID-19 relief funding toward tutoring students falling behind in school, the state superintendent said Tuesday.
Superintendent of Public Instruction Tom Horne announced at a news conference that free tutoring will be available for students who failed to pass proficiency tests in reading, writing and math.
The tutoring program, however, will be given on a first-come, first-served basis. Only students between first and eighth grades at public and charter schools will be eligible. Parents can request it through the Arizona Department of Education website.
"I have one obsession in life. My obsession is that we increase the proficiency levels of the students in the schools and that we help the teachers achieve that," Horne said.
The funding will cover over one million hours of tutoring for four days a week over a six-week period. Either a certified teacher or a private vendor approved by the state would do the tutoring, according to Horne.
Teachers will be paid $30 per hour. If they make sufficient progress in that six- week window, they will get an additional $200 stipend. A teacher who can find the time to tutor could potentially make $8,000 overall.
"This will help the teachers improve their income," Horne said.
The Arizona Education Association, the state`s largest teachers union, criticized Horne's plans.
"Once again, Tom Horne is giving us a side show," President Marisol Garcia said. "He is throwing the unneeded chaos into the work of programs serving kids and reneging on promises already made to families so that he can get a cheap headline."
The federal government earmarked $2.7 billion to Arizona to assist with pandemic- driven learning loss. Roughly 90% of that money went to districts around the state. That left $130 million for the Arizona Department of Education. Funds not used by the end of September 2024 will revert back to the federal government.
The timetable led state education officials to ask vendors of tutoring services to submit data to prove they had made academic gains with students. Those that failed to do so within five days had their contracts abruptly canceled.
The Boys & Girls Clubs of the Valley, which serves grades K-12 in metro Phoenix, was notified by email on Saturday that the state was yanking funding for their Whole Child Approach program. Created in response to the effects of COVID-19, the three-year program focuses on wellness coaching and social and emotional stress. Cassidy Campana, Boys & Girls Clubs of the Valley spokesperson, said the organization fortunately has a few philanthropic partnerships to help fill the void.
"We're certainly disappointed, but our program will absolutely continue on," Campana said. "I thought we gave a pretty robust response when asked to show academic progress on a grant that was for wellness coaching."
Some who made gains but weren't spending the funds at a steady rate had their grants reduced. Twenty-seven grants in all were modified or canceled.
"We do want to be sure that nothing goes back to the federal government. So we took back part of their funds. That all came to in excess of $40 million," Horne said.
A dramatic decline in student learning since the pandemic is a problem schools all over the country are facing. Most education experts say intensive tutoring is the best solution.
Despite billions of dollars in federal funding, only a small fraction of students have received school tutoring, according to a survey earlier this year of the country's largest districts by the nonprofit news organization Chalkbeat and The Associated Press.
TERRY TANG
Associated Press