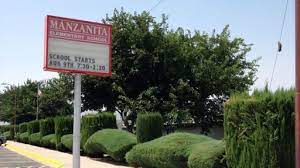 KINGMAN – Three children and an adult were hurt when struck by a vehicle in front of Manzanita Elementary school in Kingman last Wednesday. The Kingman Police Department (KPD) said all four were released from Kingman Regional Medical Center following treatment of minor injuries.
Police Chief Rusty Cooper said officers responding to the school in 2600 block of Detroit Ave. at 6:50 a.m. learned that a 28-year-old Kingman man dropped off his child at the school before he struck the victims as he was turning his vehicle around in a dirt parking lot.
"Injured was a 33-year-old Kingman woman, her 11-year-old son and 8-year-old daughter and a 9-year-old boy riding a scooter," Cooper said. "Investigators suspect impairment was involved."
The name of the driver is withheld initially. Cooper said charges are pending and the investigation continues.