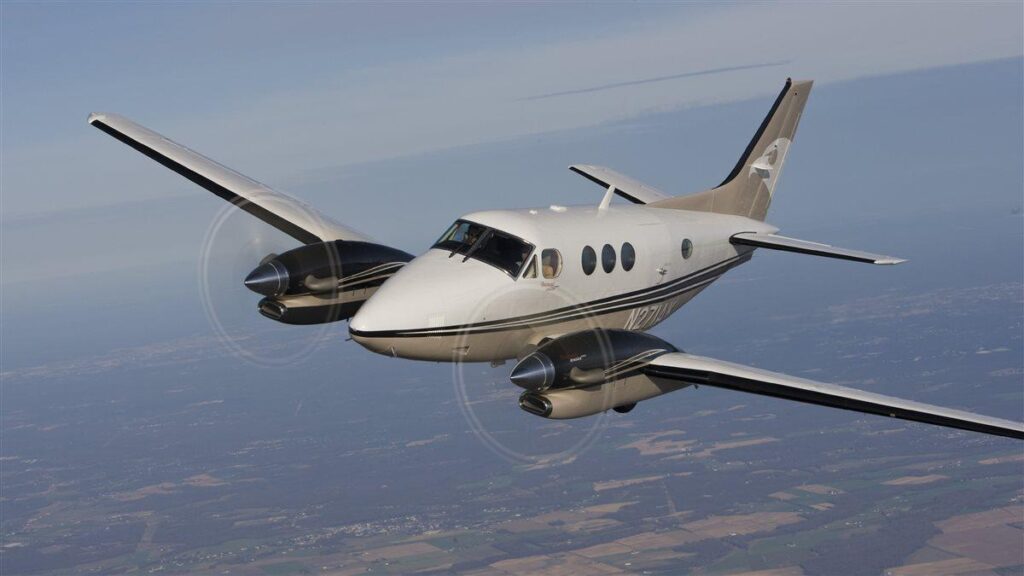 MOHAVE COUNTY – A decision to repair rather than replace a damaged wing section resulted in a deadly airplane crash in south Mohave County more than two years ago. That's the conclusion of the National Transportation Board (NTSB) investigation report published Aug. 23.
The NTSB said that Falcon Executive Aviation (FEA) had its Beechcraft King Air C90 under government contract for firefighting missions with the U.S. Forest Service since 2007. A pilot and an air tactical group supervisor passenger were killed when the aircraft crashed and burned on July 10, 2021.
The report said the twin turboprop had flown multiple reconnaissance orbits of the Cedar Basin wildfire for the Bureau of Land Management before it plunged from an altitude of 2,500 feet into a rocky hillside about 15 miles northeast of Wikieup just before 12 p.m.
"According to a witness, the airplane descended into a steep dive and impacted the side of a ridgeline in mountainous terrain," the report said. "Another witness observed the left wing falling to the ground after the aircraft had impacted the terrain."
The NTSB said the severed wing was located almost 8/10ths of a mile from the plane wreckage that was mostly consumed by the post-crash fire.
FEA pilot Matthew Miller, 48, and Jeff Piechura, 62, died in the crash. Piechura was a 40-year veteran of the fire service with various agency involvements over his career.
The NTSB said FEA had been advised to replace a portion of the left wing when inspection two months before the crash detected a 2.5-inch-long crack in the lower spar cap of the aircraft.
"WARNING: A crack in the center section lower forward spar cap necessitates the replacement of all lower forward inboard fittings, the lower forward spar cap on the center section, and both outboard forward wing panel main spar assemblies," the NTSB said of the aircraft manufacturer communication to FEA. "Contributing to the accident was the operator's decision to repair the wing spar instead of replacing it as recommended."