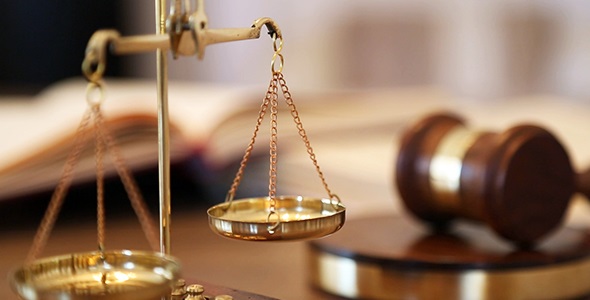 KINGMAN – Emotion ran high and tears flowed freely during Thursday's initial appearance and arraignment for a Kingman teenager charged in the deaths of two fellow Lee Williams High School student athletes and the serious injury of two others during a high-speed traffic accident. Defense attorney Brad Rideout entered not guilty pleas for Brady Shuffler, 16, during a hearing packed with people.
Parents, family and friends of the victims and the defendant, and various community members, filled every seat in the courtroom, with many standing in the back. Extra security was present inside the courtroom, and was posted outside the Law and Justice Center while police units patrolled the perimeter.
Shuffler is charged with two counts of second-degree murder for the deaths of Tatum Meins, 17, and Sherene "Siri" Walema, 15. He also faces aggravated assault charges for injuries suffered by Cannon Cobanovich, 16, and Reilly Feil, 17.
Shuffler faces other charges for alleged marijuana impairment and the destruction of utility poles.
Mohave County Superior Court Judge Derek Carlisle told Shuffler that 82 years in prison plus six months in jail is the maximum punishment possible if he is convicted of all counts with consecutive sentencing orders.
Rideout previously indicated that plea negotiations with Deputy Mohave County Attorney James Schoppmann are well underway. Rideout said Shuffler will exercise his right to trial if necessary, but that the defense hopes to resolve the case through plea agreement.
Police reports indicate that Shuffler was motoring at or above 100 miles per hour when he lost control of the 2020 Dodge Charger Scat Pack Widebody he was driving, resulting in the rollover and ejection of all passengers on April 13. Shuffler was extricated as his leg was pinned by the vehicle.
Meins' grief-stricken parents struggled to maintain their composure as they addressed the Court expressing concern about allegations that Shuffler was still drinking and abusing substances. Similar input came from Siri's grandmother.
Rideout denied the allegations of drug use and drinking and he informed the Court that Shuffler is engaged in counseling and going to school. Judge Carlisle approved the attorney stipulation that Shuffler will enroll in pre-trial services that will include screening for drugs and alcohol.
Carlisle also ordered Shuffler to refrain from driving while his case is pending and to have no uninvited contact with any of the victims or their family members. Rideout had conceded both conditions.
Shuffler will next appear at a pre-trial conference hearing scheduled Oct. 10.
Dave Hawkins