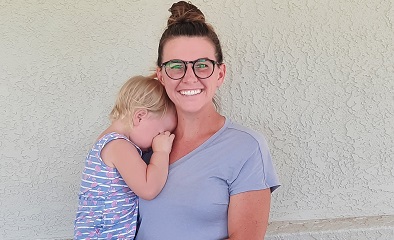 KINGMAN – Rebekah Sherwood, head coach of Lee Williams' Lady Vols golf team, is starting her second year at the helm, but with the added challenge of also head coaching the Volunteers boy's golf team concurrently. 2022 was Sherwood's first year as the Lady Vols head coach. A Kingman Bulldog alumni and golf stand out herself, Sherwood stepped up for the Lady Vols golf team when the previous head coach stepped down leaving the girl's golf team without a head coach. In a similar situation this year, the incumbent boy's head coach stepped away from the golf team for personal reasons, but before leaving he asked Sherwood if she would also take on the head coaching responsibilities this year. Sherwood said 'yes' without hesitation. The 2023 golf season is a few weeks away and coach Sherwood is confident that her experience and abilities will help both teams achieve success this year. Sherwood also states with enthusiasm that she is "super excited" about her players and the prospects of having a great season for both the boys and girls golf teams in the upcoming season.
Sherwood said, "We have great potential and I'm expecting some really good things from both my teams this season." With regards to the boy's team, "I have 15 boys on the team and they all have talent. I have a couple of freshmen and a few up-and-comers that I believe can finish in the top five at the end of the season." Sherwood is depending on two upper classmen stand outs to help the golf team succeed this year. "On the boys' side, (junior) Jake Lander has been out on the golf course all summer working to get better. I've seen him out there working on his short game, chipping, and putting. He's doing what it takes to get better, and that extra work is going to pay off for us this year."
Sherwood continued, "Brodie O'Banion (senior) works really hard on his game too. I'm expecting him to show up for this team and play really well to help us win some matches." As for the seven girls on the Lady Vols golf team, Sherwood is expecting a lot of good play from Linnea Gustafson (senior), Cash Profit (senior), and Bella Evens (junior).
"Linnea finished in the top 20 last year at State. She practices all the time, and competes all over. Her goal is to finish in the top 10 this year, and I'm really excited to see where she finishes." Sherwood moved on to her two stand outs Cash and Evans, "They have been practicing a lot more over the summer, so I'm really hoping their scores come down this year. Cash has already cut her stokes down by ten. She was shooting in 60's, and has gotten her score down into the 50's. I'm hoping that this season she'll get it down even further into the 40's. Evans is working hard too and I think they all can make it to state."
Sherwood's overall outlook and expectations of the girl's season is, "I expect them to show up and win a lot of matches. I expect them to improve, to be more aggressive, and compete better than they did last year."
Sherwood's golf philosophy is, "Go out there and have fun. Don't worry about your opponent because golf is a mental game." Sherwood said she trying to make her players mentally strong so that when they on the course their only real opponent is themselves. "It doesn't matter who your rivals are, the course your on, or the elements you're in, the only true obstacle is yourself and I don't want my players beating themselves. If you can overcome your harshest critic, which is usually yourself, then you can accomplish anything. That's what I believe will take these players far, not only on the golf course and into the playoffs, but in life beyond golf too."
The boy's Volunteer golf team will begin their Division II Section VII season against the Kingman Bulldogs on August 17, 2p.m. at Cerbat Cliff Golf Course. Parents and spectators are welcome to come watch the match, but are not allowed to coach from the peanut gallery. You can walk the course with the team or you can rent a cart at the clubhouse. The Lady Vols will begin their Division II Section V season on August 28, 3p.m. at Mohave Resort Golf Course against Mingus Union High School and Mohave High School.
Estevan Hernandez