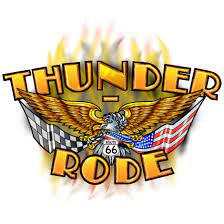 KINGMAN — The Kingman Farmers Market at Thunder-Rode announces a special 2023 Kingman Route 66 Market to be held at the Thunder-Rode Event Center located at 102 E. Beale Street in historic, downtown Kingman, AZ during Kingman 66 Fest on October 14 and October 15. Located across the street from Locomotive Park, The Kingman Farmer's Market at Thunder-Rode comprises of baked goods, fresh produce, local honey, plants, metal art, artisan goods, health and well-being items, locally handcrafted items, food trucks, and more.
The Thunder-Rode shop as well as numerous vendors will be chock full of Route 66 memorabilia alongside the Kingman 66 Fest Marketplace taking place across the street at Locomotive Park, as an add-on site, on October 14 and 15. You'll find Route 66 clocks, art, bandanas, t-shirts, stickers, license plates, hats, racer back tanks, pins, patches, LED and metal signs, wallets, flags, magnets, bells, earrings, boot lickers, and more at the 2023 Kingman Route 66 Market at Thunder-Rode. Hundreds of Route 66 souvenirs will be available for purchase.
Vendor space opportunities are only available to local residents of Kingman and the surrounding area. Thunder-Rode is providing Event Center space for a vendor fee of just $20 for the entire weekend with or without electricity on a first come, first served basis. The 2023 Kingman Route 66 Market at Thunder-Rode hours will be Saturday, October 14 8am – 6pm and Sunday, October 15 10am – 4pm. To reserve vendor space at the 2023 Kingman Route 66 Market at the Thunder-Rode Event Center, contact Roseanne (Market Manager) at 928-303-3341. You may also contact Jack (Thunder-Rode Shop Owner) at 928-628-9994. All vendors welcome.