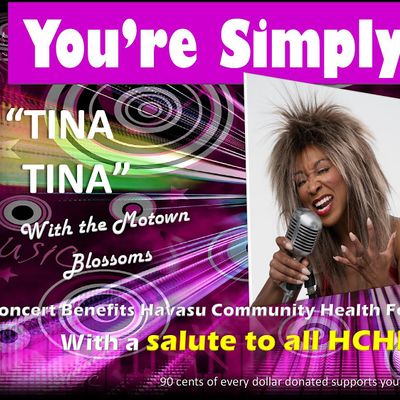 LAKE HAVASU CITY – This September, the Havasu community will pay homage to recently lost musical legend Tina Turner for a great cause.
Organized by the Havasu Community Health Foundation (HCHF), celebrity impersonator Tina Tina along with The Motown Blossoms, will join together on stage to perform your favorite Turner hits along with Motown classics courtesy of The Motown Blossoms.
By the mid 1970s, Turner began her solo career. In the early 1980s, Turner was signed by Capital Records during her second performance at the Ritz. Her cover of Al Green's Let's Stay Together reached many European charts and in the U.S., the song was number 26 in the Billboard Hot 100.
By 1984, Turner brought us the Album, Private Dancer which reached number 3 on the Billboard 200. The album went platinum selling over 10 million albums in the U.S.
In that same year, Capital released What's Love Got to do with it? the second single from the album.
The song inspired the making of the semi biographical film What's Love Got to do with it? in 1993.
On May 23, 2023, the world lost an icon, Turner was 83. Many fans were saddened by the inspiring singer's passing.
The Motown Blossoms are an impersonation group who mirror the 1960s girl group, The Blossoms. The girl group is most fondly known for their 1962 hit, He's a Rebel. The Motown Blossoms will be performing hits by Martha and the Vandellas, Mary Wells, and many more!
On Friday, September 22 Tina Tina along with special guests The Motown Blossoms will be performing in Lake Havasu for HCHF's benefit concert, Simply the Best.
All ticket sales will go to the Havasu Community Health Foundation Food Bank. HCHF is a nonprofit organization that advocates health through education and support groups.
The concert will be taking place at The London Bridge Convention Center. Doors open 6:30 p.m. and the concert will begin promptly at 7 p.m.
To purchase tickets to this unforgettable night, please visit You're Simply the Best! Tickets, Fri, Sep 22, 2023 at 7:00 PM | Eventbrite
Phaedra Veronique