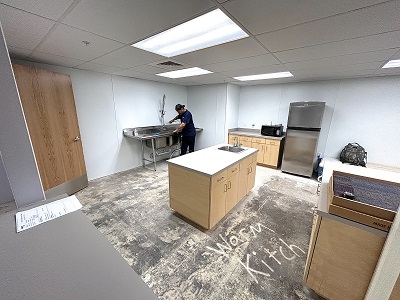 KINGMAN – A future home for homeless veterans is past the first phase of getting a facelift and closer to completion.
Operation 6, located inside the former Arnold Plaza at 312 Oak St. in downtown Kingman, has completed Phase I, the first part in a series of upgrades that will make the building habitable.
The building and its program will provide temporary housing and transitional services for up to 25 homeless and at-risk military veterans over various periods of time.
It's started with the help of the Jerry Ambrose Veterans Council (JVAC), a non-profit and part of a coalition of various organizations and dedicated community members throughout Mohave County.
JAVC purchased the 22,000 square-foot building from Mohave County in 2017 and almost immediately began renovating the space to accommodate residents and staff.
As of July 2023, renovations have included asbestos removal, addition of sleeping rooms, bathrooms, office spaces, a fire suppression system, new plumbing and an overall makeover.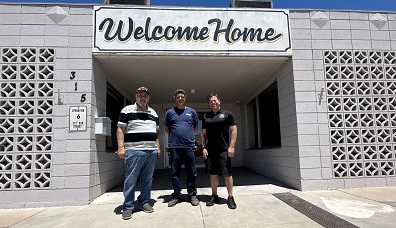 Prospective future residents are now staying at Roadway Inn on Andy Devine until all approvals are met for a full opening.
JAVC President Pat Farrell said that a Phase I completion means that Operation 6 has a temporary certificate of occupancy.
"We're awaiting a permanent certificate of occupancy," Farrell said.
Phase II involves the process of getting the necessary approvals which would come from the grantors, not the city. JAVC is looking for funding and sponsors to complete that portion of the project.
Veterans Court Plays a Role
The Kingman Veterans Treatment Court (VTC) and the Veterans Resource Team (VRT) will play a highly significant role with Operation 6.
The court is an intensive, outpatient program where veterans participate in counseling treatment, active outside and inside court activities (classes, meetings and hearings). The average participation time is 6 to 18 months. Upon completion of VTC, the veteran partakes in a graduation in front of his fellow justice involved veterans.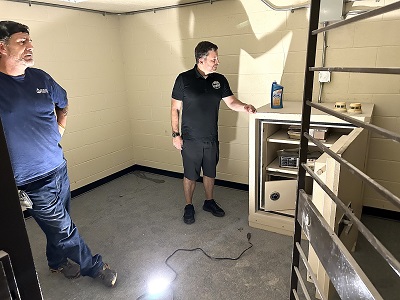 VTC is also a problem-solving court that is intended to serve veterans struggling with addiction, serious mental illness, PTSD and/or re-occurring disorders as well as any other issues the veteran may have, including housing, employment, and education.
"Our primary mission is to end veteran homelessness," said Judge Jeffrey Singer of the Kingman Veterans Court. He's been at the bench since December 2015. In that time, about 150 veterans have passed through the program with 89 of them graduating (the court will graduate its 90th veteran in August).
The VRT consists of more than 30 organizations and their function is to network and share info about resources and opportunities to support local veterans.
Singer and the Veterans Resource Team charge forward with the main goal of ending veteran homelessness. They work with JAVC and other organizations such as Catholic Charities and Nations Finest to get veterans housing and into programs that will help them get back on their feet.
"We try to get vets connected with resources and stable housing," Singer said. "JAVC and these organizations have been great partners in getting some of our vets housed."
The downtown locations of Operation 6 and Kingman Veterans Court is a 'one-stop shop' zone. Instead of veterans having to traverse the city or county on their own, they'll have access to numerous resources to get help or get to the help they need.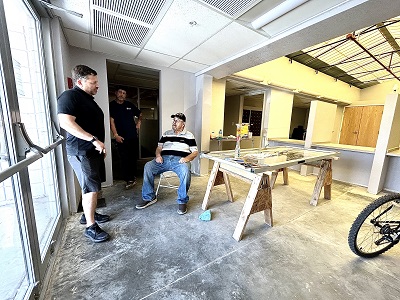 The municipal courthouse is almost directly across Oak Street from the Arnold Plaza building. Within a few blocks are resources and access to the veterans center (to help with numerous forms of paperwork including discharge statuses and disability claims), the City of Kingman and Mohave County administration buildings, AZ@Work (located at the Mohave County Administration Building), Western Arizona Council of Governments, the Mohave County Jail where some vets may be tied up with legal issues but still be able to do face-to-face visits and video conferences and Kingman Area Regional Transit stops that can transport vets to sites such as Department of Economic Security, Mohave Mental Health and Southwest Behavioral Health and to local shopping establishments.
"This will be great for both veterans in my program and veterans as a whole," Singer said. "We can say 'Hey, you need something? Well, it's right across the street. There you go'."
Operation 6 popped on the radar about the same time Singer took the bench at Kingman Municipal Court.
"We talked about some of the things we could do with Arnold Plaza," Singer said. "This obviously turned out to be the best option."
Singer's involvement has been minimal but along with the Veterans Resource Team and JAVC, the goal is to support Operation 6 and veterans in general.
"It's been such a great concept and I just want to see it come to fruition," he said.
"From the get-go, I knew how important JAVC was to this community and what they wanted to do: Target veteran homelessness and have resources all in one area," said Singer. "We'll do anything we can do to support that, and we are."
It is Not a Flophouse
The Operation 6 building will be home to the Kingman Veterans Center once the remodel is finished.
There has been past skepticism that the Oak Street location will attract vagrants and be nothing more than a flophouse that allows homeless veterans to run amok downtown.
That couldn't be further from the truth.
Both Farrell and Singer ensure that this is a program with strict guidelines to follow in order to help the veterans and keep the community safe.
Operation 6 will be run like just about any other rehabilitation center, in fact very similar to the Veterans Affairs substance abuse and mental health facilities in Prescott, Phoenix and Tucson.
Mandatory guidelines will include curfews, random drug and alcohol screenings, requirements to attend court dates and medical appointments, required substance abuse and mental health classes and social workers and security guards who will monitor the safety and security of the facility's residents and staff.
Farrell hopes to have Operation 6 completed Nov. 11 (Veterans Day) but in reality, says he's looking at a Dec. 1 opening date.
There is a significant amount of veteran demographics in the county.
The cost of living, access to VA hospitals, medical needs and community support make Kingman a place where vets can call home.
According to the U.S. Census as of July 1, 2022, Mohave County has a population of close to 230,000. Of that – and the fifth largest county in the country – 23,676 are veterans.
The population of Kingman proper as of the latest U.S. Census is a bit above 32,000. That doesn't include the unincorporated areas like Butler and Golden Valley.
Chase Field in Phoenix holds 49,000.
We have half a ballpark of veterans living in a county larger than some east coast states.
The Public Got a Look
Numerous community entities got a tour July 19 to get a first-hand look at the progress and get information on what still needs to be done. Those agencies and entities – who have also played parts in bringing Operation 6 to life – included roughly 25 members and staff from Jerry Ambrose Veterans Council (JAVC), Veterans Affairs, Kingman Veterans Treatment Court, Mohave County Jail Reentry Program, Mohave County Probation, Kingman Police Department, Nations Finest, Catholic Charities, and Southwest Behavioral Center.
Heather Brassil, AmeriCorps Senior Program Coordinator – Mohave & La Paz Counties, was one of those who got a look at the progress.
The façade is deceptive and the inside a maze. The possibilities of what the facility can do for veterans is remarkable.
"I was very impressed with the size and layout of the building. It doesn't look as big as it is from the outside," Brassil said. "Many of us got lost as we were walking around inside."
She wants to see the sentiment and effort flow to other towns.
"I hope that the people that come through the doors of Operation 6 will find a refuge," Brassil said. "I hope this program can be a flagship for other communities to glean from."
She knows it's a place to help those who need it and want to give back to their community
"Services will be available to individuals daily from community organizations to assist these Vets with permanent housing, job and volunteer opportunities, therapy and counseling services, getting set up with identification and other benefits," Brassil said. "These servicemembers sacrificed their lives for our country to keep us safe and guarantee our freedoms. It's our job to repay them with the respect they deserve, and the compassion they need to restart a life that every American expects."
The Facility
As part of community housing, those spaces include 25 small single-person rooms, a warming kitchen and four community bathrooms – three for males and one for females – four community showers; laundry room; day room with a 60 inch TV, pool and foosball tables, furniture and games; office spaces for VA representatives, social workers, peer support, and HUD-VASH housing resources; a vault (that was part of the original architecture) to store prescription medication and weapons that may get brought into the building; and an outside courtyard.
Marty Glade, facilities manager and Navy veteran, has been working tirelessly alongside other veteran volunteers, to carpet and tile rooms and other spaces.
He stays at Rodeway Inn, the temporary site of the Kingman Veterans Center at the top of El Travotore Hill on Andy Devine Avenue almost every day and spends a good portion of that day working his ass off. He's been staying there since he got to Kingman in late June.
He and about 20 other veterans in the program that includes anger management, substance abuse recovery and finances to name a few that will eventually move into the Oak Street location.
A Chicago native who was part of the Local 399 International Union of Operating Engineers, he carries City of Chicago licenses in stationary engineer and high-pressure boiler's license. He's in Kingman since February. He started helping at Operation six earlier this month.
His team's tasks mainly focus on carpeting and tile.
Glade's situation is similar to those of other veterans looking for assistance getting back on their feet.
After traveling across the country from job to job, he landed a job as a manager at the local Burger King. He was staying at Cornerstone Mission for almost a month and started working with Nation's Finest when one of their workers mentioned JAVC. Despite his annoyance with some lengthy resources, jumped on the chance to work with any veteran's program.
"I'd never been in a situation like this in my life," he said. "I gave my resume to Pat (Farrell) and he said that if I took the job, I could get a room at Rodeway Inn."
The bathrooms were just starting to be tiled when he started earlier this month and he knew he had plenty of work to do. He and another vet tiled six bathrooms in less than two weeks. He even trained a fellow vet to do tile on his own.
"He came to me not a thing about tiling," Glade said. "Within a week he was doing the work on his own."
He'll be living there as soon as the building is finished and is looking forward to the satisfaction of his labor.
"There's pride in being able to live in a place that you helped build," he said.
The Efforts
Operation 6 has come a long way from an abandoned former Mohave County administration building to a home for veterans in need.
"This is a 'Hand Up' program, not a 'Hand Out' program" Farrell said. "If we just hand out the help without expecting a vet to take the initiative to move up and on, that vet won't make it very far."
Those struggling know how to help the ones fighting the battle.
"The best person to help a struggling vet is a vet who's been through the struggle," Farrell said. "Successful veterans will be the best resource."
"The community continues to come together to support our homeless veterans," Farrell said.
There will be paid employees, both through the grant funding and personnel on the VA payroll. Volunteers and veterans court alumni will also pitch in to help the place run smoothly.
There's more work to do.
A helping hand helps.
A look in the eye. A handshake.
The haircut.
A fresh shave.
A shower.
A place to sleep without wondering where wallet went.
A way to wake up and know you have somewhere and someplace to go that isn't the fight you got in and the one you will never forget.
For more information on Jerry Ambrose Veterans Council, to donate funds or to volunteer, visit their website at www.jvac.org.
Further information on the Kingman Veterans Treatment Court can be found at www.cityofkingman.gov/government/departments-i-z/municipal-court/veterans-treatment-court.
Aaron Ricca