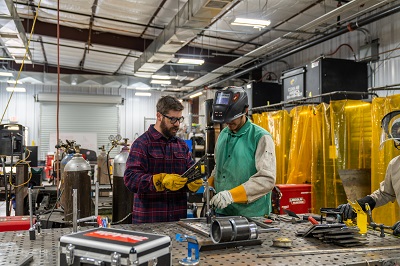 MOHAVE COUNTY – Mohave Community College Community and Corporate Education is now offering welding, automotive, culinary and carpentry classes. Community Education provides engaging hands-on learning opportunities, services to enrich our students by exploring a new activity, upgrading an existing skill, or by meeting new people. It's all fun non-credit classes with no grades or exams.
Classes will be offered throughout the southern MCC campuses at various times and days, including Saturdays. The Welding classes offered will include Intro to Welding at Home; Hobby Welding; Aluminum Tig Welding; Welding Basics; Weld a Metal Rose and much more.
"In the past, the welding program has been limited to only enrolled, for-credit students who are seeking to go into welding as a career," said Jason Gee, Dean of Career and Technical Education. "We have received numerous requests to provide other opportunities for community members who either love the work or simply want to get better at what they are doing without going through the full program."
Introduction to Carpentry is another new class being offered where students can learn construction site safety, proper use of hand and power tools, framing, flooring, roofing, and drywall. It's a 10-week course offered on the Bullhead Campus.
Those interested in automotive can take Final Detail/Vehicle Delivery where you'll learn how to professionally wash and detail a vehicle, and other techniques like paint correction and protective coating. Another new class is Automotive Basic Maintenance Workshop where students can learn about tire service, brake lining check, filter replacements and more.
Community members interested in culinary classes, can learn the basics of cooking techniques and skills in Kitchen 101. The course will cover topics like knife skills, ingredient preparation, and cooking methods like sautéing, roasting and grilling. Community Education students can also learn about sanitation and safety through the ServeSafe class. Students will learn about proper food handling, preparation techniques and much more. Upon completion of the course, students will be able to take the ServeSafe certification exam, which is recognized by the foodservice industry and required by many employers.
To view classes start dates, times and cost, visit ce.mohave.edu then click Certificate Programs.