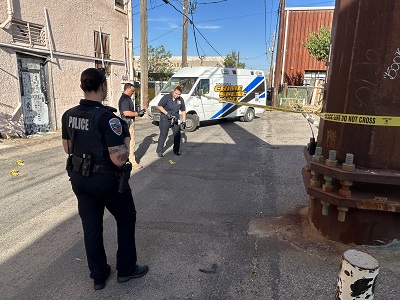 KINGMAN – The alley, cops and yellow tape looked realistic.
It wasn't a real crime scene.
The Kingman Police Department and City of Kingman IT and public relation departments took on the task of filming a KPD recruitment video Tuesday morning in the alley behind Hotel Beale and The Sportsman's Bar ('Sporties' as the locals call it).
Although that alley has and can be the scene of various misdemeanors and felonies, this was just a simple video shoot.
Nothing to be worried about.
The video will add to a plan to attract new police recruits and lateral transfers to the city's police force.
"We hope to have a final cut by the end of August, if not sooner," Martel said. "It will primarily be shared on City of Kingman social media, website and embedded in job ads for recruits and laterals."
Kingman Police are always looking for the next officer. It's a long process. Get started now.
Check out the job listings at https://www.governmentjobs.com/careers/cityofkingman. Aaron Ricca