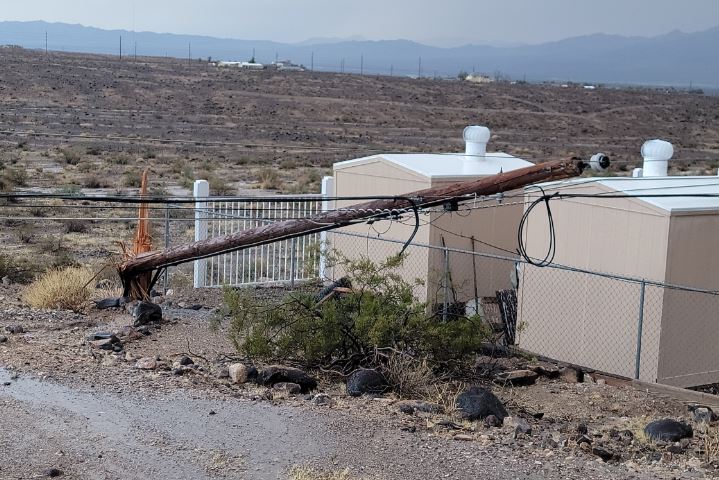 BULLHEAD CITY, AZ – Throughout the weekend, Friday, August 18 – Saturday, August 19 twenty-six separate outages in Mohave Electric Cooperative's (MEC'S) service area affected over 4,800 MEC members. The majority of the outages were due to lightning striking lines, transformers, and other electrical equipment.
MEC crews worked tirelessly throughout the night restoring power to all members by Saturday, August 19 at 1:57 p.m.
The largest outage occurred at 5:49 p.m. on Friday in the Western service area for 1,949 members when winds from the extreme storm tore down a line, causing the circuit to lock open at the Big Bend Substation. Crews made repairs and closed the circuit breaker at 9:38 p.m. This outage affected the Bullhead City areas of Arroyo Vista, Miracle Mile, Chaparral, and Easy St.
The two other largest outages occurred later that night as the storm progressed. At 6:21 p.m. an awning blew into a primary line resulting in the circuit to lock open at the Airport Substation, creating an outage for 639 MEC members. Crews patrolled the lines, cleared the awning, and closed the circuit breaker, restoring power to members at 7:22 p.m. The heavy winds from the storm caused the circuit to lock open again at 8:27 p.m. Once crews patrolled the line and closed the circuit again, power was restored to members at 9:31 p.m.
Other outages during the extreme storm were caused by trees making contact with power lines, and broken poles.
"It is very important that residents secure their homes, landscaping and yard decorations for the safety of not only the electrical lines, but also other residents and structures especially during monsoon season," said Jerry Hardy, MEC Manager of Engineering and Operations.
MEC crews will be replacing one additional pole and a distribution switch that were damaged during the storm. All other repairs have been made.