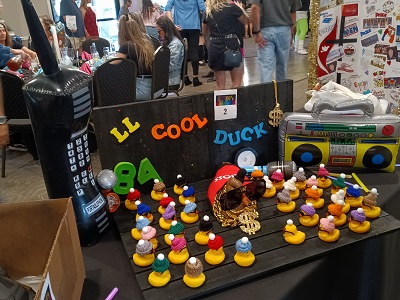 LAKE HAVASU CITY – Great news for animal lovers. The Western Arizona Humane Society's annual fundraising dinner party took place on Saturday, September 9.
At the London Bridge Convention Center, the kickoff event was in support of Lake Havasu's Duck Derby Race scheduled to take place on Saturday, September 23. It was a 1980s themed event complete with costumes, music, and raffle drawings all to help injured and homeless animals of Lake Havasu and Mohave County.
The evening ended with dog adoptions for pets in need of homes. The Western Arizona Humane Society is a nonprofit organization that saves, mends, and provides shelters for animals.
Since 1978, they take in all animals and continually help potential pet owners adopt lifelong companions. They also treat animals in need of additional care before placing them into homes with foster parents.
The Western Arizona Humane Society also has a veterinary team that neuters, spays, vaccinates and much more. Their website provides an adoptable pets page where potential pet owners can browse animals at the facility awaiting adoptions.
With their pet food drives, adoption events, and ongoing fundraisers, Western Humane Society is always in need of volunteers who are passionate about the care of animals. The volunteers are responsible for a variety of tasks such as greeting visitors, exercising dogs, etc.
This year the famous Duck Derby Race is back. The races will be taking place under the London Bridge. It will be an afternoon filled with fun for everyone.
Donations will be given to the Western Arizona Humane Society so that they can continue to provide the very best care to animals.
Duck Derby tickets are on sale now at $5. Quack packs are available as well which include 5 duck derby tickets and $35 T-shirt. Real ducks will not be used but the plastic ones will be launched from a stationary motor.
Duck Derby Races will be on Saturday, September 23 from 11 a.m. to noon at London Bridge, 422 English Village. For more information call Western Arizona Humane society at 928-855-5083 or by emailing adoptions@westernarizonahumane.org.
If you're ready to share your love of animals and want to become volunteer, visit Western Arizona Humane Society – Lake Havasu City, Arizona – Pet Adoption
Phaedra Veronique