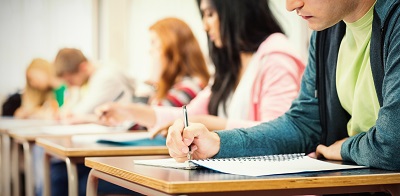 Fewer students in the state are advancing their education after high school, according to recent Arizona Education Progress Meter data released by Education Forward Arizona and Center for the Future of Arizona. While the lag is due, in part, to ongoing impacts from the COVID-19 pandemic, an ongoing decline in enrollment at two-year institutions persists since its peak a decade ago. This trend is even offsetting a steady increase in enrollment in four-year institutions.
"As recently as six years ago, Arizona was making steady progress," said Rich Nickel, president and CEO of Education Forward Arizona. "Now, we have less than half of our state's graduating high school seniors enrolling in some form of advanced training or higher education. It's also particularly concerning to see declining enrollment numbers from subsets of Hispanic and African American high school students. Prioritizing secondary education – for all Arizona residents – is imperative for our state's economy and our overall quality of life."
The latest data reveals that, in 2021, only 47.3% of Arizona high school graduates enrolled in post-secondary programs (compared to 46.8% in 2020). The data is even more startling for students from racially and ethnically diverse populations: 41.3% for Hispanic/Latino students, 46.3% for African American students, and 31.8% for Native American students. Given that more than 50% of students in Arizona's
K-12 public education system are Hispanic, this data is even more concerning for ensuring that Arizona remains a competitive state. All of the data indicates that the state has a long way to go to reach its 70% post-high-school-enrollment goal outlined in the Arizona Education Progress Meter.
Post-high-school enrollment data is based on students who graduated from an Arizona public or charter high school and attended a college, technical school, or university the following academic year. This measure is a good indicator of how prepared and motivated Arizona students are to pursue and ultimately complete some form of higher education following high school graduation.
Twelve years ago, in 2011, educators and leaders were celebrating ongoing improvements in the share of Arizona high school graduates attending community colleges, universities, and trade schools within one year of completing high school. Much of this growth occurred in two-year institution enrollment, which was only 7% in 2005, but quadrupled to 29% in 2011.
However, these gains were short-lived. The new data reveals that enrollment in two-year institutions is only at 17%. The downturn is overpowering growth in four-year enrollment (now 30%, up from only 20% in 2005, and 24% in 2011), creating a sustained dip in combined post-high school enrollment since a high of 55.3% in 2017.
Even before the pandemic, five-year trends of post-secondary enrollment were flat or declining for Arizona high school graduates. Since COVID-19, trends have declined further among some demographics more than others – 10% for students reporting two-or-more races, 9% for Hispanic/Latino students, and 8% for African American students.
Overall, these trends were most evident in enrollment numbers at two-year institutions, especially among groups that attend two-year institutions at a higher rate. Arizona high school graduates who are African American, for example, attend community colleges and trade schools at much higher rates than their counterparts and therefore see a larger impact in attendance reductions.
"Improving these outcomes is not just about improving our state's education attainment levels, as worthy as that goal is in its own right," said Dr. Sybil Francis, chair, president, and CEO for Center for the Future of Arizona. "If we increase post-secondary enrollment and attainment in Arizona and reach the Arizona Education Progress Meter goals, the state will make significant progress in achieving the economic and quality of life aspirations Arizonans have for all Arizonans."
To help close this concerning shortfall, Education Forward Arizona is leading a statewide effort to boost awareness of and garner support for increasing degree and certificate completion. Education Forward Arizona recently launched "Everything to Gain" – a campaign to highlight the benefits in our economy, workforce, communities and as individuals – when students continue their education after high school.
The campaign works to ensure Arizonans throughout the state hear about, become familiar with, and
see significant increases in degree and certificate attainment as a statewide imperative.
"In order for 60 percent of Arizona adults to be equipped with a college degree or certificate by 2030, the state will need approximately 500,000 more adults to earn a post-secondary degree, certificate, or license in the next seven years," said Nickel. "This 500,000-degree/certification gap is alarming. What often goes unacknowledged is what the degree and certification gap costs Arizona in social and economic terms, from meeting our workforce needs, building strong communities, and creating recession resiliency."