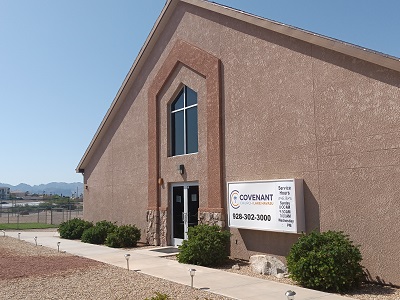 LAKE HAVASU CITY – Since 2005, Covenant Church Lake Havasu has made a major impact in the community. Eighteen years ago, Pastor Joseph and Pastor Rhonda Merrill's dedication of service through faith has brough about admirable results in Lake Havasu. Covenant Church uniquely began in their own living room of Pastor Joseph and Pastor Rhonda. Within just two months, the married couple's following grew, and services were moved to The Quality Inn.
By 2011, Covenant's family expanded as they remodeled a warehouse on College Ave. By the year 2014, enthusiasm and memberships were growing when they purchased the location that still stands today at 113 Acoma Blvd in Lake Havasu.
The two pastors along with their members help the hungry, provide aid to homeless individuals, foster families and much more.
Unfortunately, hunger and poverty are in every community and food banks can't make poverty go away however, the mission of food banks is to end hunger. That is the goal of the Covenant Church whose food pantry is open to people in need of this service.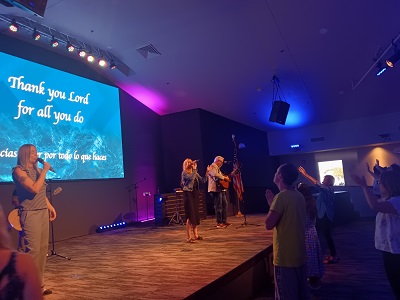 The church has taken notice of the town's homeless population as well. According to The National Alliance to End Homelessness 2023 report, the epidemic has been escalating in the U.S. since 2017 with an overall rise of 6 percent.
Last year individuals without homes and shelters skyrocketed to 421,392 and the severely homeless was 127,768. The Covenant Church acts as a fundamental connection with private and public partners to arrange outreach days to help the homeless people of Havasu.
The church also offers clothes to families. As their Foster Closet program is designed as a resource for children who need clothes. The church collaborates with agencies of the area to keep this service available and set up clothing drives.
Their event includes volunteers to ensure that children receive the clothes they need as well as provide help to children of incarcerated parents. Covenant Church has also designed a program for people who are or have had prior struggles with addiction.
Every Friday night the congregation hosts Celebrate Recovery. A 12-step program that is free and open to the public. Their goal is to help people towards a journey of healing and provide a space to share personal struggles with addictions. Celebrate Recovery meets every Friday at 6:30 p.m.
The church extends their compassion to prison cells with their Prison Ministry program. In coordination with state, local, and county jails, they set up visits to inmates.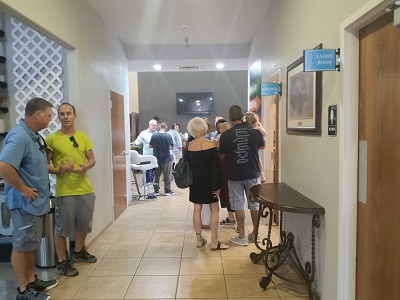 If you wish to donate blood you're in luck because on October 7, Covenant Church is having a blood drive from 11 a.m. to 3 p.m. To determine eligibility, please visit their donor portal at www.donors.vitalant.org or by calling 877-258-4825.
As the holiday season approaches us, the church is offering many ways to celebrate with their annual Festi Fall event scheduled on October 31. It's a great way to welcome Fall and spend a festive evening filled with games, food, prizes, and many other activities.
Covenant Church are also active participants in the Angel Tree Program. The church sets up a Christmas tree with a child's name on greeting card along with their Christmas gift wishes.
Members can pick a card off the tree and purchase those gifts for the children of families in need during this time.
But you don't need to wait for the holiday season to participate with the Covenant Church and their contributions to the community.
Just about every day the congregation has their doors open for everyone. They have the Men's Movement that meets every third Saturday for an 8 a.m. breakfast.
They also have a meeting for women as well which is every second Saturday at the church's coffee shop beginning at 9:30 a.m. As for the youths of the community, the Legendary Youth group ages 12 to 18 meets every Wednesday at 6:30 p.m., and The Gathering Group ages 18 to 30, meets every other Friday at 6:30 p.m.
For a complete listing of Covenant Church services, activities, or to become a volunteer, please visit
Covenant Church Lake Havasu | Home (covenantlakehavasu.org).
Phaedra Veronique