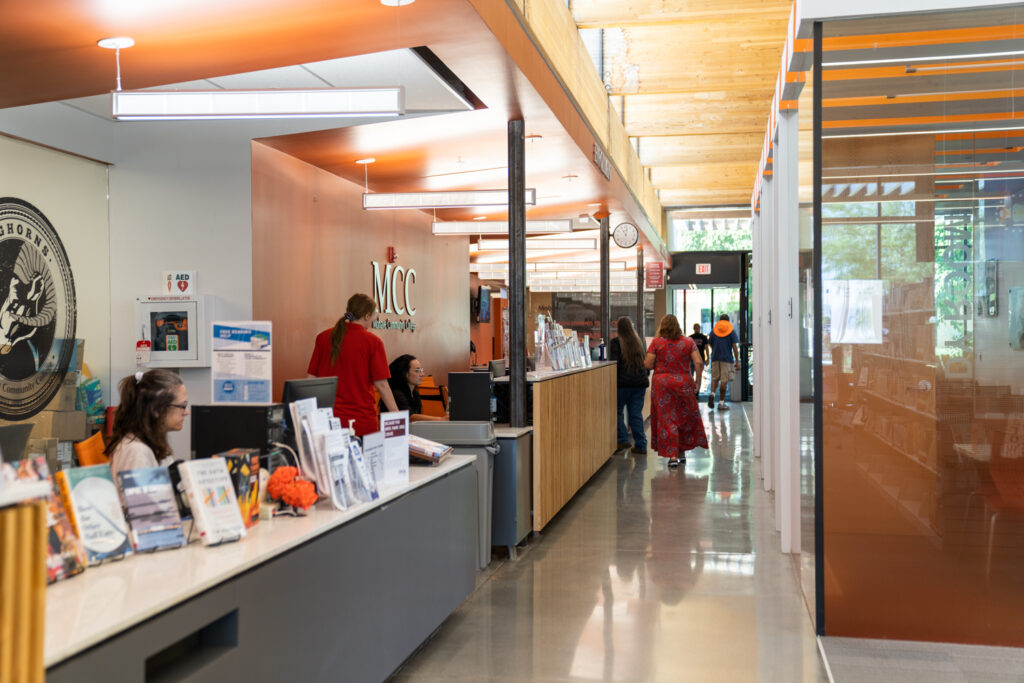 MOHAVE COUNTY – Monday was back to school for students at Mohave Community College. Many returned to continue their higher education journey and many new students are taking the first step to earn their degree and/or certificate.
Enrollment is up this semester by roughly 6% with approximately 4,000 students taking classes across all campuses, as well as online and live remote via Zoom. Students are also still signing up for shorter term fall semester classes, which begin in September and October.
Students returning to class Monday were excited for the fall semester and all the College events, leadership opportunities and other activities.
Chance Reisinger is a new student on the Kingman campus. He is currently on the Arizona General Education Curriculum pathway with an emphasis in Science. This academic path allows students to save thousands of dollars in tuition by completing college freshman and sophomore course requirements at MCC. Then they can transfer those college credits to a university in Arizona to complete a bachelor's degree.
"I'm looking forward to all of the opportunities to meet new people and make new friends this semester. I have yet to meet all of my professors for the semester, but all of the ones I have met so far are fun, considerate and easy to connect with," Reisinger said. "Between classes, on campus opportunities and the wonderfully thought out events, I know there will be plenty of opportunities to meet all of the amazing staff and students at MCC."
He decided to attend MCC because the low tuition, student events, clubs and student success resources.
Bullhead City Campus student Jennifer Schaefle is working toward her Liberal Arts degree and is looking forward to her classes and student life activities.
"I'm eager to get started on all the fun events we have planned for the year with the Student Activities Council and the Phi Theta Kappa Honor Society and I look forward to making new connections with students and faculty," Schaefle said.
The College has many degree and certificate options to help students meet their education and career goals. People are able to browse the Academic, Healthcare and Career & Technical Education programs online at www.Mohave.edu/Degrees. Economic studies and labor market data show the average MCC graduate earns $725,600 more in their life than someone with only a high school diploma.
Those interested in learning more about becoming an MCC Bighorn should visit Mohave.edu and click the Apply Now button on the homepage. Once they fill out the simple online form to create a student account, a college representative will be in touch soon to assist with the application, tuition assistance and enrollment process.
MCC also offers many Corporate and Community Education non-credit classes. The courses range from teaching fun skills for hobbyists to professional skills needed in the local workforce. These classes are not graded and are offered on the Kingman, Bullhead City and Lake Havasu City campuses. To see a list of those classes, visit ce.mohave.edu.