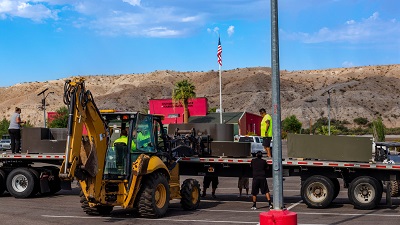 BULLHEAD CITY – Bullhead City's Community Park is the latest beneficiary of a new innovative process for recycling wind turbine blades. Thursday, City staff at Community Park received a donation of 6 functional and artistic park benches valued at $33,868.13, crafted from decommissioned windmill blades. The donation was made by an anonymous donor from the renewable energy industry through an arrangement with the manufacturer, Canvus, Inc.
"We came away inspired by your story, and when our donor gave us discretion to choose the community to receive a donation, I wanted to make sure it was yours," said Eric Clay, Director of Business Development at Canvus, Inc., to Bullhead City Staff in an email.
Bullhead's story was relayed to Canvus by city staff over a series of conversations that began in March of 2023 about the City's parks and Canvus' functional art pieces.
"They were looking for community spaces that would be a good fit for their pieces," said City Manager Toby Cotter. "At the same time, we're looking for ways to affordably enhance our parks' beauty and function. We liked the look of their pieces and felt they were a good fit for our parks."
"I liked the story of Canvus," said Canden Stanley, Bullhead City Marketplace General Manager. "Their benches breathe new life into something that would have ended up in a landfill. It fits so well next to the Bullhead Belle that also could have ended up in a landfill if not for the foresight and caring work of the Chiodinis and the City."
According to Parker Kowalski, Managing Director of Brand, at Canvus, Inc, Wind turbine blades are notoriously difficult to recycle. "Before us, your choices were basically co-processing or landfill," Kowalski said. Co-processing wind turbines is a process that involves using the turbines as a source of fuel and material for creating cement. "Many people have tried to co-process wind turbines and given up. It beats up the equipment; it's really built to last," Kowalski added.
"Every improvement that we make to Community Park comes with great thought and care," said Bullhead City Manager Toby Cotter. "We're so grateful to have these practical art pieces in our park."