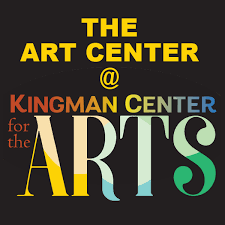 KINGMAN – Residents of all ages are invited to visit the Art Gallery at 402 E Beale Street where they donate $5 and take home a 6×6-inch canvas. Then they create family-friendly art on the canvas and donate their artwork back to the Art Gallery by August 19th.
On Tuesday, August 29, a fun Preview and Auction will be held at 6:30 p.m. Doors open at 5:30. The Preview and Auction is an opportunity to bid on selected 6×6 artwork. Dozens of 6×6 canvases also will be on sale for only $20! Refreshments will be served.
Gallery hours are Tuesday-Thursday, 11-5 pm, and Friday-Saturday, 11-6 pm.
All proceeds from the annual "6×6 on Route 66" fundraiser help support the Kingman Center for the Arts Gallery and special art programs.
The Kingman Center for the Arts Gallery and Gift Shop is located at 402 E Beale Street in downtown Kingman. It provides residents of Kingman and surrounding communities with an opportunity to enjoy art created by local artists.