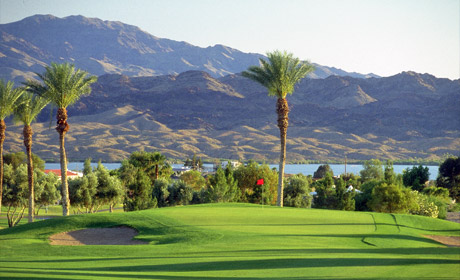 LAKE HAVASU CITY – This month Kiwanis International is offering more ways to give back with their 10th Annual 5 Iron Tournament.
In 1915, Kiwanis International was formed in Detroit Michigan. Their original title was Supreme Lodge Benevolent Order of Brothers.
In the following year, the organization changed their name to Kiwanis. Kiwanis is a Native American term "Nuc Kee-Wanis" meaning, (we trade). In that same year, the club had become an international group when they made their debut in Hamilton, Ontario, Canada.
Originally, the group was for business networking but by 1919, the club changed its mission to cater to the needs of children. Throughout the years, additional clubs developed in the U.S.
By the 1960s Kiwanis had expanded. Currently, Kiwanis is in over 80 nations as well as other geographic locations.
It just so happens, Lake Havasu City is one of those locations.
The Lake Havasu team is active to improve the lives of local children. Kiwanis has been a favorable significance in Mohave County. They show their support with a network of volunteers who are passionate about Kiwanis's mission. Kiwanis of Lake Havasu collectively raises funds for local schools and families in need.
Just this past summer, they collaborated with Lake Havasu Parks and Recreation for a free arts and crafts event. The project was for children ages six and up with donations provided by Kiwanis.
When Kiwanis' get together, the group shares laughter and creates lasting memories all for one common cause. In July of this year, the group participated in a pirate themed bowling tournament. The admission fees of the tournament were donated to the many programs for children where Kiwanis is actively involved.
This December, the club will be organizing their annual Toys for Tots Golf Tournament at the Lake Havasu Golf Club. The fundraiser is their longest ongoing event in Lake Havasu. Kiwanis request that players bring a new unwrapped gift for their Toy for Tots donations.
If you can't make the December tournament, this month the group will be organizing their 10th Annual Five Iron Tournament. The golf tournament is just another way for the charitable club to involve the community in their ongoing dream.
Their tournament is on Saturday, September 16 at the Lake Havasu Golf Club at 2400 Clubhouse Dr. beginning at 7:30 a.m.
To sign up contact Lisa at 928-733-0876 or email kiwanistoyslhc@gmail.com. You can also contact Fred Robbins at 909-226-2747 or call 909-226-2747. To become a Kiwanis member visit Kiwanis International | Around the world. In your community.
Phaedra Veronique