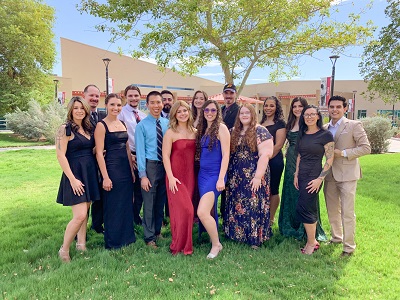 MOHAVE COUNTY – Mohave Community College Radiologic Technology program 2023 graduates have all passed their national board exams on their first attempt. Having a 100% pass rate means that students in the program were very well prepared to take their exams. This is the second time this has happened since the program started at MCC.
"We are extremely proud of our students who worked hard to get to this point and pass their national board exams," said Stacey Gilbert, Director of Radiologic Technology. "A first-time pass rate for this exam shows the students' commitment to the program and their future careers in radiography."
The Radiologic Technology program tracks rates of its graduates and they always have a 100% employment rate. All 2023 graduates have been offered jobs, with 14 here in Mohave County facilities and one in California. The demand for radiologic technologists is high in Mohave County and according to the U.S. Bureau of Labor Statistics, on average radiologic technologists in Mohave County can earn up to $67,530.
The program is offering a new Mammography course through Community Education for currently certified Radiologic Technologists. The course is designed for technologists who want to pursue a post primary pathway to earn additional credentials. The program content covers breast anatomy, physiology, positioning and compression, imaging of patients with breast implants and much more. Classes start Oct. 9. For more information, contact Devin Wright at DWright@mohave.edu.
Those interested in becoming a Radiologic Technologist can start their path by becoming an MCC student. To learn more about the program, visit Mohave.edu/RadTech. Second eight-week classes start Oct. 9 and the Spring semester starts Jan. 8. Sign up today before classes fill up. Apply for free at Apply.mohave.edu.