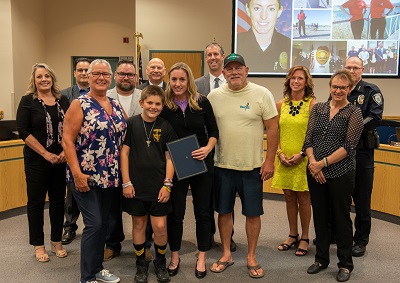 LAKE HAVASU CITY – The Lake Havasu City Police Department is pleased to announce that Detective Tara Flagg was recently selected to receive the 2023 Early Riser Award from the Arizona Women's Initiative Network (AZWIN). Detective Flagg was nominated for this award for her achievements with the department as well as her efforts outside of her police duties.
The Early Riser Award is presented to a woman who, in her first five cumulative years of public service, demonstrates leadership potential and strength of character through extraordinary performance of assigned or extra duties which have taken place during her employment as a public safety employee, including but not limited to volunteer work, training, education, personal and cooperative development.
Detective Flagg has been a consistent contributor to the LHCPD's mission of providing a safe and secure community, and her dedication to the community, particularly the youth, make her a Woman to Watch in this profession.
The Lake Havasu City Police Department would like to congratulate Detective Tara Flagg for her dedication to service with the department and her commitment to professional development, which in turn promotes a better quality of service to our community.